Peruvian fare including saltado (Peruvian stir-fry), fish & more.
When the Peruvian craving hits, I always come to Mario's! I came here recently for dinner, and the wait was about 90 minutes. Parking is super hard here. The small lot is notoriously tiny, and good luck with street parking. Service can be a little iffy. We've gotten some very sweet servers, and some not so much.

After being seated, I got my usual Lomo Saltado. When our bread and Aji was served, the waitress told us that they would charge for any more bread after that. I'm pretty sure they used to not charge for more bread… oh well. The Aji was delicious as always. I love how spicy it is! It goes well with the bread and any dish you order.

My Lomo Saltado soon came and was a piping hot humongous portion of fries, steak, onions, and tomatoes. I lathered on my Aji and went to town. The steak was delicious! Some pieces are too well done, but most are Medium Well I would say. The portions are huge, and I always have leftovers for another large dinner.

I always say I want to try some of their other Peruvian offerings, but guess I like my Lomo Saltado too much!
-Charlene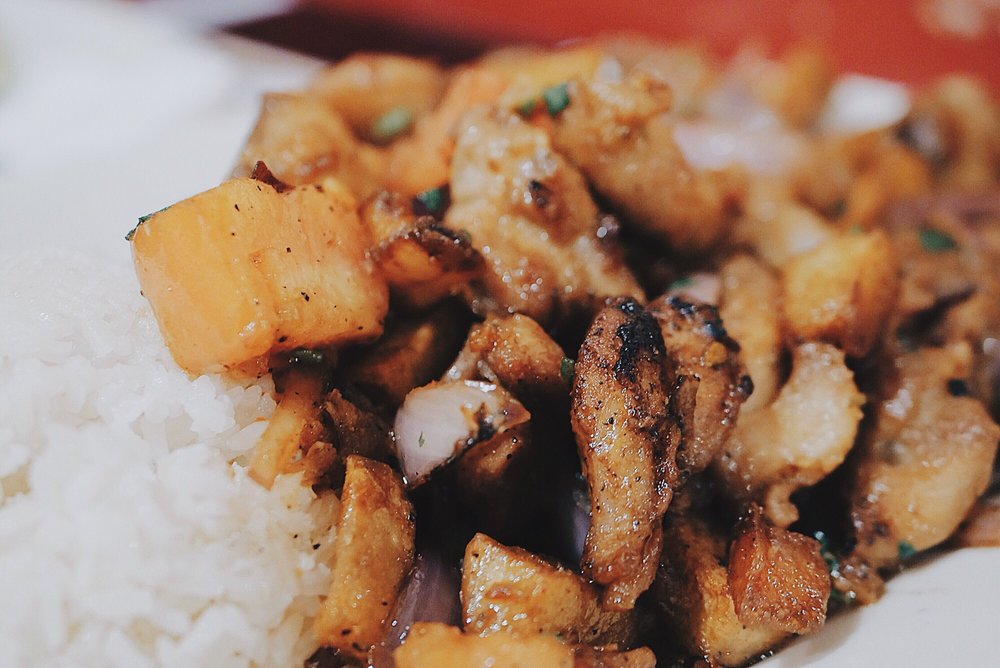 When you're craving Peruvian food in Los Angeles, this is the place to go. But, be prepared for a crowd. Your best bet is to go during the week right when they open, which is what my husband and I did. There were still some people outside waiting for the restaurant to open, but we did not have to wait once we got inside. I ordered the lomo saltado and my husband ordered the pollo saltado with white meat. The meat is well flavored and tender. It came with a large portion of perfectly cooked white rice which did an excellent job soaking in all of the flavors of the stewed meat. I have never been more impressed with a Peruvian restaurant and cannot wait to return!
-Laurie
This place is pretty good!  The parking is challenging since the lot is small, you may need to find street parking.

Here is what we ordered:

1) Ceviche Mixto – I loved how much seafood was in this!  I couldn't stop eating this one, so I recommend this to everyone!

2) Lomo Saltado – A classic dish to get but the steak was a bit on the tougher side compared to other places that serves this.  The flavors were awesome though!

3) Saltado De Mariscos – Very delicious as well.  I would definitely get this over Lomo Saltado next time, and just get a different dish since getting the two Saltado dishes was a bit redundant.

It was so nice to finally try this place. It's definitely one of my favorite Peruvian restaurants in socal!
-Loretta
I've been here several times prior and I just have to say that this is thee best Peruvian food I've experienced, ever.

This restaurant usually has a lengthy wait and absolutely tiny parking lot. Be mindful of the parking laws around the community and make sure you don't get your vehicle towed.

The restaurant is small, but does move rather quickly. Service has always been solid and the staff is really friendly and helpful. I typically order up a Lomo Saltado, but this time, I made sure they included an egg on top, at an extra cost. My kids shared the plate with noodles and steak. The Lomo plate was $14.25 and $3 extra for the egg, as well as $2 for an Inca cola. Personally, the serving is extremely huge and the bread they bring prior is a good snack. Depending on how hungry you're, you actually may be able to share a plate.

The only drawback for me here is that the green sauce is extremely hot, but if you sprinkle it, then you'll get a bit of the flavor and not too much of the spice.

Overall, this place is great and I wish they would expand it because there are always people waiting to eat here. The food is authentic and you won't leave disappointed.
-Kareem
My fiance and I had lunch here around 2pm on a Wednesday. It was busy but there was an empty table and we were seated promptly. Despite being busy for the lunch rush, the waitress took our order and brought us warm dinner rolls with butter and our drinks. The food came less than 10 mins after ordering. Usually, it's a bad sign when the food comes too fast, but boy was I wrong!

IT WAS THE BEST PERUVIAN FOOD I HAVE EVER EATTEN, EVER… And I've eatten Peruvian on 2 coasts! 😉 This place puts Pollo Inka and El Rincon to shame! The rice is fluffy, the steak is tender and flavorful. The portions are HUGE, bring an appetite.

It was a down-time day for us, so we went home to "relax" and ended up falling asleep. Literally, food coma after this! I don't know what they put in the food, but we'll be back!
-ChiChi
Those who don't love saltado don't know saltado!

This has been the go to join for me n' the pops since I was old enough to chew steak.

While I get the obligatory lomo saltado (mmm… those grilled onion and tomato chunks) I now ALWAYS get their calamari appetizer.

I'm always about the "value" and while the saltado will run you $15, a bulk of it is still filler, rice and fries. The calimari dish tho is YUGEEEE bro. Just take a look at the pics, they're all totally accurate. Hot steaming mountain of crispy fried goodness.
-Kristal
So flavorful!! Everything was delicious!!
The seafood was fresh, sauces were on point. The salad with the red onions and lemon was so tasty.
Even the fried shrimp in the sauce was great. Never had seafood with fries on top but it's definitely a great way to eat! Now you are going to wait a while for this!! We waited at least an hour and 15 min but we forgot when we got inside !!!!
-Lawanda
Mario's Peruvian's lomo saltado (Strips of beef sauteed with onions, tomatoes and french fried potatoes. Served with lightly seasoned rice) is the stuff dreams are made of. It was my first time trying lomo saltado and I loved it!

There was something really comforting about the flavor profile of lomo saltado that reminded me of comfort Chinese food. Maybe it's the dash of soy sauce, ha. Also, I loved that there were french fries in it. I mean…who doesn't love french fries?! The lightly seasoned rice added another layer of flavor to the already flavorful dish. Yum.

Also, it was a huge portion! Definitely enough to take home for another meal…or eat it all, like I did.
-Tiffany
This place is really good. They don't over season the meals and really let the natural flavors shine. I've had the shrimp fried rice twice and the lomo saltado once. They don't really skimp out either on the portion size. Twice I've had to ask for to go containers because I couldn't finish my meal.

This is fusion that works. Chinese and Hispanic influence in all the dishes.

This place get's really busy on the weekends, so I'd try to busy hours and go at odd lunch or dinner times like 2-3pm or 8pm.
-Tony
Came here on a Saturday night at 630PM and the wait was about ~1 hr as expected. The food was delicious and the portions were huge. One dish is definitely enough for 2 to share. Lomo saltado was extremely flavorful and the shrimp dish tasted pretty fresh.

Definitely recommend parking in the neighborhood next to the restaurant. The lot is tiny and later cars seemed to have some difficulty getting in and out due to the tight space. It was only about a 5-10 min walk to park in the neighborhood and you definitely need it after eating all the food!
-Jetrina
Did my friends and I wait from 6-7.30pm on a Sunday night (MLK weekend) for some lomo saltado and fried rice? We did. The parking is usually bad so you have to park a ways away, and not in the parking lot.

However. For $15, you get a HUGE portion of food that's easily shareable. The seafood fried rice blows any other types of fried rice out the window and I say that as a Southeast Asian girl who enjoys nasi goreng very much. I could not believe the amount of calamari and shrimp that came with the fried rice. Ahh. Would I fly 3000 miles from the east coast back here JUST for it? Absolutely.

Pro tip from my seasoned friends: The service is quick so if you have no time and want to do take out, you should.
-Annabel
Mario's is incredible!!! I came here with a couple of co-workers for a late lunch at around 3pm. At first, I was a bit put off because there was still a wait to get a table for lunch- at 3!!! Crazy! It was well worth it though.

I got the Chupe de Camerones soup which was spectacular. Very flavorful- fresh, slightly spicy with fresh shrimp, octopus, potatoes and rice in it! It was absolutely to die for! I also split my soup with a friend and we shared the Saltados de Mariscos- excellent as well. Freshly marinated octopus, shrimp, mussels with potatoes, onion and tomato with a side of rice. We were given very generous portions.

Now I see what the hype is all about! Love this place. Will definitely be back.
-Alyssa